You may not have heard of Arista, because it's a VERY small production winery in Sonoma County's Russian River Valley.
And even if you've heard of Arista, you probably thought they just made Pinot Noir, because making Pinot is how they earned a boatload of 90+ ratings from The Pinot Report and others.
I came across my Arista Russian River Syrah by accident. A friend (who lucky for me collects great California wine) came to our house with a bottle she thought was an Arista Pinot Noir. It was a surprise to her when it turned out to be a Syrah, but it was an even more delightful surprise to me when I tasted it.
So let me tell you about Arista. The winery is the love child of a couple from Texarkana, Texas. Al and Janis McWilliams came to northern Sonoma County in xxxx with a mission to "create the most elegant expression of Russian River Valley Pinot Noir." They purchased vineyard land in Cloverdale and Healdsburg, but went to the heart of the Russian River for their estate vineyards and their home.
Their winemaking philosophy is "to strive to preserve each vineyard's natural qualities," or let the terroir shine through. In the winery they use minimal intervention and gentle handling, striving for "a balanced expression of fruit, oak, acidity and alcohol."
So how'd they do?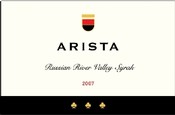 Let me start by saying that I've never heard of a Russian River Syrah. I've had RR Pinot, Chardonnay and sparkling wine, but never Syrah. That grape usually thrives in a warmer climate, like California's Central Coast, where they can make rich, almost jammy Syrah.
So, aha! Maybe that's the trick here. This Syrah is elegant (so elegant I thought I should be wearing a tiara) because the cooler climate creates more acid to balance the rich fruit.
That theory was borne out by my tasting. Right off the nose I got rich black raspberry fruit and vanilla, with a softness that suggested I was dealing with a real lady. The palate was also delicate, but not lacking in fruit: more raspberry, cherry and plums and then the jackpot: a rich, soft mocha that lingered in my mouth like a lovely treat.
Wow. But don't be thinking Arista Syrah is candied or tooty-fruity. The acid kicked in after the mocha, and carried a clean, balanced finish.
This Syrah is a perfect companion to Russian River Pinot Noir. It's fruity but almost weightless, and would be a pleasure to drink with almost any meal.
I'd suggest you go get yourself a bottle, but unless you're on Arista's mailing list you're probably out of luck. Or maybe you can have a lovely friend bring you a bottle, like Chris did for me. Thanks, Chris, and Cheers!
2 Responses to "Arista Russian River Valley Syrah 2007: Body and Elegance"