Archive for the 'Reviews shiraz wine' Category
I was navigating a busy wine trade show when I saw Stephen Black. He was the dashing, somewhat diminutive man in a black shirt who solidly occupied a space in the middle of a crowded aisle-way.  People-traffic, all laden with semi-filled wine glasses, bumped against him and then parted to flow around him, as though he were a rock in a stream.
I approached to taste his wines, and he waved me away: "I want you to taste the New Zealand wines first!"
OK, whatever you say…
So once I'd done with the grapefruit-y Sauv Blancs and delicate Pinot Noirs, I tried Stephen again.
"OK, now we can talk." And Stephen can talk. He told me about his first career in the pharmaceutical business, which grew from his background in chemical engineering. While he'd found a fine career, he didn't find his passion until he found his way into the wine business.
He started at Barossa Valley Estates  in 1992 and then did graduate work in winemaking. It all came together when he hooked up with two grape growers in 1999. One of them, Darren Zimmermann, came from a family that had been growing grapes in Barossa since early last century, and together with Robert Bader they formed Small Gully Winery. It's in the heart of Barossa, built in (you guessed it) a small gully on Zimmermann's property.
They named their wines with a nod and a wink to Stephen's past — "The Formula" was supposed to be The Prescription until some government wine bureaucrat gave it a thumbs-down.
But what's in a name, anyway?
Their intent at Small Gully was to make "wines of a distinctive bold and intense style with great expression of fruit character." In Australian wine-speak, that means "ballsy."
And ballsy they are. I reviewed one of their wines, The Formula Shiraz 2006, a few months ago, but this was the first time I'd seen The Formula Cabernet Shiraz 2007.
I expected a big giant fruit bomb, but that would have been too simple. The Shiraz alone, harvested from older, low-yielding vines in warm-climate Barossa, brings bold, extracted, rich berry flavors.
But Stephen adds about 50% Clare Valley Cabernet Sauvignon. Clare Valley vineyards are at higher altitudes, bringing much cooler nights that allow the grapes to ripen more slowly and develop good acid and structure.
Add Lot A to Lot B and you get — intensity without jamminess.
So let's get to the wine. The color in the glass was dark purple and opaque, and the nose jumped up to meet me. I got round, rich aromas of dark fruit, vanilla and a hint of savory herbs.
The palate made me go "Wow!" (really). "This tastes like chocolate-covered boysenberries!" which to me is a good thing — a very good thing.
It wasn't just sweetness, though. There was firm, underlying structure that kept the fruit in check. This is a wine that's not just "a meal in a glass" — it would be great with a steak (on the barbie?).
It's no secret that I find Australian wines easy to like. I enjoy the bold style of the wines and the winemakers. Some reviewers love them and give them great ratings.
But the best rating system is my customers: When I recommend The Formula wines, customers buy it and come back for more. What better rating system can there be? Cheers!
I love Australian Shiraz. I'll admit it right up front.
I love it when I want a balls-to-the-wall, no-holds-barred, in-your-face wine experience.
Australian is not elegant like Santa Barbara Pinot Noir. Or austere like Bordeaux.
Australian Shiraz is not "food wine," if food wine means a low-key beverage that enhances flavors without making  a statement of its own. Instead, it's all about ripe, rich, opulent fruit.
So this post is about my latest Aussie wine experience. This one is called Strong Arms Shiraz 2008, and it's been available to American wine drinkers thanks to a fabulous importer called Grateful Palate Imports. Well, it was available, until Grateful Palate went out of business. I think this is a huge loss to U.S. wine drinkers, and I'd happily do anything I could to bring them back.
But let's try to appreciate this wine for what it is. Strong Arms is just what it says: a strong expression of the fruit that's endemic to Australia. This country, that was formed by hard-ass convicts and regularly deals with ridiculous extremes of climate, is capable of producing wines that are bold but juicy, and represent great value for stateside wine drinkers.
Strong Arms 2008 is a classic Shiraz. The nose jumps out of the glass with black raspberry fruit and just a little bit of spice. The palate  is just as rich, with boatloads of up-front raspberry cream. It's not jammy, mind you — the weight is right for a wine that can be enjoyed with food, or without.
I sure hope this wine continues to be available n the U.S., and that we see a resurrection of the Down Under wineries represented by Grateful Palate Imports. I'd buy them, and back them, all the way. Cheers!
God knows there's no lack of big, ballsy Australian Shiraz. It seems like it's the birthright of every Barossa winemaker to make a jammy, full-bodied Shiraz that routinely gets 90+ points from the big-deal wine reviewers.
Problem is, many of them seem too big and too jammy. Oh, they're spectacularly delicious for the first several sips, but then about halfway through your second glass you start feeling like there's a small furry animal sitting on your tongue. They're just too much — they tire out your palate.
So I look for more balanced, more restrained Aussie reds (of course, restrained is a relative term, right? "Restrained" from Barossa is nothing like restrained from, say, Bordeaux) .
So anyhow, last night we had a grill full of ridiculously large dry-rubbed steaks. I wanted to see if Small Gully Winery's Robert's Shiraz 2006 could stand up to Rib-Eye.
I read that the grapes for The Formula Shiraz are sourced from vineyards in the Adelaide Plain, which is just west of the Barossa Valley. It has the distinction of being the most arid (i.e. having the least rainfall) of any Australian wine region. It's also pretty damn hot, and that doesn't sound like a prescription for quality wine grapes. What saves it, though, are the cool sea breezes that sweep across the vineyards, cooling down the grapes and slowing the ripening time. Another plus is that most of the vineyards are mature (40 years old for Robert's), and that helps create more complexity and flavor. Finally, controlled irrigation and limited yields produce intense and concentrated flavors.
So good, let's get back to the wine. When I read that the alcohol content was skating close to 16%, and that it had been aged for 36 months (that's a lot!) in American oak, I feared the worst.  But when Robert's Shiraz hit my glass, I immediately loved the deep garnet color and the aromas that just about jumped out of the glass and hit me in the face. The first was intense, rich berry pie, with all the sweet/tartness that a good berry pie has. The berries reminded me of elderberries or mulberries, and then some spice drifted in. It was cedar or sandalwood — delicate but intriguing. Then the vanilla and chocolate crept in at the end. Read the rest of this entry »
Elderton Wines shows you how great Australian wines and wineries can be. They're family-owned and operated. They have vineyards dating back to the 19th century. They express terroir with elegance and style. And oh yeah — they've won a boatload of awards for their fabulous wines.
Deservedly so. Their primary Barossa line shows the big, bold style that the region is famous for. But they have another project, the Friends Vineyard Series, that says "Barossa" on the front label, but is designed to showcase a lesser-known sub-region.
The Eden Valley vineyards from which this fruit is sourced don't sit on the Barossa Valley floor. They're scattered up the hillsides, at elevations from 1200 to 1500 feet. Combine the effects of elevation with the cooler, wetter climate and more minerally soils of the Eden Valley sites, and you get fruit with more acid and structure, along with intense flavors.
When I poured the Elderton Friends Vineyard Series 2009 Shiraz, I saw what I expected: intense deep garnet and purple color that you could barely shine a pin-light through. The nose hit me with fruit, as I expected it would, but it wasn't just tooty-fruity. There was lots of cedar and spice, tart red berries, and even a bit of meatiness tickling the back.
The palate had all sorts of stuff going on. The first was black raspberry candy. Ever had a black raspberry Jolly Rancher? If they made them, they would taste like this. And that's a good thing — the rich fruit was clean and not jammy. Because the crisp acid jumped in right behind the fruit. It lifted the palate and made way for the eucalyptus and mint that followed. My palate was not quite overwhelmed, because as the finish lingered, a little black licorice teased me.
Boy — there's enough stuff here for a meal. And did I mention my meal?
I was eating Seared Tuna as I sipped my Elderton, and the match turned out to be brilliant, if I do say so myself. The slight smokiness of the tuna was perfect with the sweet black raspberry fruit.
And this really was a good food wine. You might think that Aussie Shiraz is a meal in itself, but the Eden Valley version has so much natural acid that it keeps the wine bright and laser-beam clean. Elderton Friends is actually a fairly mind-blowing combination of intense fruit and tangy brightness.
And oh yeah — there are a few things you don't get with this wine. The first is heavy oak, which used to be considered a feature of all Barossas. The second is a big price tag. You can take home the Friends Shiraz for under $20, and that's a lot of fun for the money. Cheers!
George warned me about this wine.
He (and by "He" I mean George Shinas, owner and winemaker) warned me that I better grab a lot of this wine, because there's not much of it and it's the best thing he's ever made.
That's saying something, because George makes really good wine. You can read all about it in my other post, "Taking Australia to Court."
But here's the story behind his latest creation. Shinas Estates makes three wines at their winery in Victoria, Australia: a Shiraz called "The Guilty," a Cabernet Sauvignon called "The Verdict," and a Viognier called "The Innocent." From the 2007 vintage he left some wine in the barrel after he did his primary bottling, and early in 2011 he blended all three and bottled it as "The Executioner."
You're seeing a pattern in those names, right? And if I tell you that George is a criminal court judge, you'll get it, right?
So The Executioner blends 55% Shiraz, 43% Cabernet Sauvignon and just a touch (2%) Viognier. You may think, "Hmmm, Viognier is a white grape, so what's it doing in a red wine?" Well, it's actually quite traditional in France's Rhone region to blend Viognier with Syrah and other red grapes, and many Aussie winemakers do it, too. Read the rest of this entry »
You may not have heard of Arista, because it's a VERY small production winery in Sonoma County's Russian River Valley.
And even if you've heard of Arista, you probably thought they just made Pinot Noir, because making Pinot is how they earned a boatload of 90+ ratings from The Pinot Report and others.
I came across my Arista Russian River Syrah by accident. A friend (who lucky for me collects great California wine) came to our house with a bottle she thought was an Arista Pinot Noir. It was a surprise to her when it turned out to be a Syrah, but it was an even more delightful surprise to me when I tasted it.
So let me tell you about Arista. The winery is the love child of a couple from Texarkana, Texas. Al and Janis McWilliams came to northern Sonoma County in xxxx with a mission to "create the most elegant expression of Russian River Valley Pinot Noir." They purchased vineyard land in Cloverdale and Healdsburg, but went to the heart of the Russian River for their estate vineyards and their home.
Their winemaking philosophy is "to strive to preserve each vineyard's natural qualities," or let the terroir shine through. In the winery they use minimal intervention and gentle handling, striving for "a balanced expression of fruit, oak, acidity and alcohol."
So how'd they do?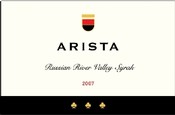 Let me start by saying that I've never heard of a Russian River Syrah. I've had RR Pinot, Chardonnay and sparkling wine, but never Syrah. That grape usually thrives in a warmer climate, like California's Central Coast, where they can make rich, almost jammy Syrah.
So, aha! Maybe that's the trick here. This Syrah is elegant (so elegant I thought I should be wearing a tiara) because the cooler climate creates more acid to balance the rich fruit.
That theory was borne out by my tasting. Right off the nose I got rich black raspberry fruit and vanilla, with a softness that suggested I was dealing with a real lady. The palate was also delicate, but not lacking in fruit: more raspberry, cherry and plums and then the jackpot: a rich, soft mocha that lingered in my mouth like a lovely treat.
Wow. But don't be thinking Arista Syrah is candied or tooty-fruity. The acid kicked in after the mocha, and carried a clean, balanced finish.
This Syrah is a perfect companion to Russian River Pinot Noir. It's fruity but almost weightless, and would be a pleasure to drink with almost any meal.
I'd suggest you go get yourself a bottle, but unless you're on Arista's mailing list you're probably out of luck. Or maybe you can have a lovely friend bring you a bottle, like Chris did for me. Thanks, Chris, and Cheers!
Getting to know Mollydooker wines is like getting to know the hottest guy in town — it ain't easy. He's a lot more popular than you are, so he can be choosy, and make you wait.
I've been trying to get to know Mollydooker wines, but they're maddeningly hard to get (because they sell out). I can't find them at all in my home state — I had to have a single bottle delivered like a CARE package from the state next door. It was The Boxer, and it was great, and I wrote a story about it that you can read here.
So I just about jumped out of my skin when I saw not one, but two bottles of Molly Dooker Two Left Feet 2008 sitting on a retailer's shelf. They went home with me, needless to say, and I treated them to a Rib dinner.
Before I talk about the wine, let me fill you in on the winery. "Mollydooker" is another one of those wacky  Aussie words, and it means "left-handed," which describes Sarah and Sparky Marquis. This young couple are Australian wine royalty, having won everything from Australian Winemakers of the Year (several times) to  five, count'em, five 99 point ratings from  The Wine Advocate. They started out partnering with grape growers to create exceptional fruit, from which they made exceptional wines. Some of their early brands include Marquis Philips and Henry's Drive, both of which win the ratings sweepstakes on a regular basis.
The key to their exceptional wines is the vineyard, with a trademarked process they call the "Marquis Vineyard Watering Programme." Vineyard canopy management and irrigation are meticulously controlled throughout the season, particularly as they near harvest. Here's why: As grapes near maturity, their sugar levels shoot up very quickly. That may seem like a good thing, but there's a catch: to reach their full flavor potential, grapes must also be physiologically ripe. The ripening of the polyphenols and other compounds that produce complex flavors lag behind the sugars, so here's what they do:
"the Mollydooker team applies water to control the sugar level until the flavor level catches up. Leigh, Sparky's Dad and Vineyard Programme Manager, tells us, "It's the range and intensity of the flavor which translates into Marquis Fruit Weight™, and ultimately into the incredibly rich, velvety wines that have become Sarah and Sparky's trademark."
Now isn't that cool? Read the rest of this entry »
OK, I'll jump on the bandwagon.
I'm usually not easy. I'm not the kind to just jump on any old wagon, and go along with the crowd.
But I tasted Mollydooker The Boxer last night, and here I go…
I love Australian Shiraz when it's balls-to-the-walls, no-holds-barred, straight up and intense. That's how Sarah & Sparky, proprietors of Mollydooker, make their wines. They aren't farmers — they don't grow their own grapes. Instead, they buy grapes from growers they've built a bond with over the years; growers they trust to produce kick-ass fruit.
Sarah & Sparky used to make wine for other award-winning wineries, such as Marquis Philips and  Henry's Drive. They kept getting all these amazing scores from wine critics all around the world, and earned a wagon-load of awards like "Australian Winemakers of the Year" and Wine Spectstor's Top 10 Wines of the World. Finally, the light-bulb went off and they got the idea to create their own label. They chose the name Mollydooker, which is an Australian expression for left-handed, because they both are! Left-handed, that is. You should check out their website: they have lots of cool stories and YouTube videos.
Their Mollydooker wines are the darlings of critics — they've never earned less than 90 points, and five have scored the magic 99 points from the Wine Advocate. That ain't easy… The wine I tasted is their "entry level" wine, only because their pricier labels sell so quickly that I couldn't buy them if I tried!
So here's my take on Mollydooker The Boxer 2009. The nose offers some red berry fruit, spice and smoky forest floor. The palate, though, is much more luscious, offering creamy mocha and vanilla up front, and then bright acid as it finishes. The balance is what makes this wine classic: it settles somewhere between voluptuous and elegant.
If you can find a bottle of any of the Mollydooker wines, grab it. Lay it down if you must, but not for too long: you shouldn't delay this kind of fun for too long. Cheers!
Restraint isn't something we've come to expect from Australian wines. There are plenty of 15 and 15.5% Aussie Shiraz that bowl over your palate and senses with intense fruit, oak, and alcohol.
Not that there's anything wrong with that — there are times when I revel in the sheer excess of it all (see my review of Some Young Punks wine,"Taking Excess to the Extreme").
But after basking for awhile in the hedonistic pleasures of such wines, reason (and shame) eventually bring me back to the balance point: i.e. that elusive place where fruit, alcohol, and tannin are all in perfect balance.
I drank a wine recently that struck me as pretty close to the balance point. In a wine bar in Arizona, I ordered a Shiraz I'd never seen before — Hesketh "The Protagonist" Barossa Valley Shiraz 2008. I know Barossa's warm climate can produce blockbuster Shiraz, so I prepared my nose and palate for some monster fruit. Read the rest of this entry »
Trevor Mast is a great Australian winemaker whose wines have made it to the front cover of Wine Spectator magazine, alongside the likes of Penfold's Grange and Henschke Hill of Grace. His wines and wineries have all the credibility they'll ever need.
Trevor is also known as a pioneer of cool-climate viticulture, which is evidenced by the boatload of awards and high ratings that he's won over the years for his Mount Langi Ghiran wines. Langi Ghiran was his first and flagship  winery, which he bought in 1987, but he created Four Sisters Winery in the mid-1990′s so he could offer a line of wines that was stylish but sophisticated and appealed to a younger crowd, i.e. the Millennial Generation. He had several Millennials at home — his four daughters — and they're the namesakes for the winery.
To give you a bit of backstory, Mast was first bitten by the wine bug when he was 20 years old, and honed his skills in viticulture and winemaking with a four-year stint in Germany. It may seem like it's a long way from German Riesling to Australian Shiraz, but the remote region of Victoria where Mast's vineyards lie can be just as challenging for its cool temperatures.
The cool-climate growing conditions of Victoria province are obvious in the Four Sisters Shiraz 2008 that I enjoyed yesterday. It stands apart from most other $15 and under Shiraz because it's not just fruity and jammy. The acid produced by the cool temperatures makes it bright and snappy, and the 4% Viognier blended right in during fermentation keeps the fruit bright and fragrant. The 2008 vintage in particular produced rich and intense flavors in the berries. There's certainly plenty of Shiraz' trademark black raspberry fruit in this wine, but it's joined by spice, vanilla and that tangy finish.
This would be a great food wine, and I'd love to taste it with spicy red sauce or maybe red Chile. Do yourself a favor and find this or any other Four Sisters wine and give it a try. I'm going to do the same. Cheers!