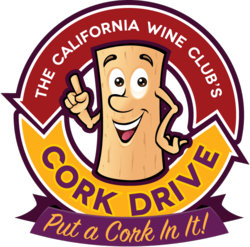 If you're like a lot of wine drinkers, you've been casually tossing every cork you extract into a big glass jar/vase/urn. By now (if you're as old as me or drink as much as me), you've got about a million more corks than you know what to do with. You can't quite bring yourself to just throw them out, after investing all this time into collecting them, but there's only so much room for these things. Some of the jars/vases/urns have been decanted into garbage bags and tossed in the basement beside your old luggage set, but your cork collection is still threatening to take over your space…
So here's an idea — join this cork recycling drive and put all those bags of tree bark to good use. Read this press release:
The California Wine Club is conducting a nationwide cork drive in partnership with ReCORK.org. The program gives consumers an easy way to return their corks with postage covered by The Club so they can be turned into something else (shoes, flooring, etc.). Natural cork is a renewable material that can be up-cycled, repurposed and put to good use rather than thrown into landfills.
The goal is to help ReCORK reach 20 million corks collected by September 30, 2011, at which point ReCORK will plant 1,000 trees in the Mediterranean oak forests to celebrate the milestone….These forests provide a vital source of income for thousands of families of the region (primarily in Portugal) and support one of the world's highest levels of forest biodiversity (second only to the Amazon rainforest). The trees are not cut down; rather their bark is harvested every nine years. Not only that, but a harvested tree absorbs more carbon and each tree can live up to 200 years.
Sounds like a cool idea. If you want to participate, and liberate your corks from their glass/plastic confinement, send an e-mail to this address: corkdrive@cawineclub.com or read their entire press release yourself. If you want more information about cork and its recyclability, go to ReCork's website: www.reCORK.org. There's lots of very interesting stuff about their recycling campaign (like they've already replanted 6,237 trees).  Cheers!